WHO
I AM
Hi, I'm Ben.
I have a lot of things going on. I created Mountain Bike Radio in 2012, Riding Gravel in 2013, and Grit Events in 2014 and they're all going stronger than ever. I started doing custom etching work in 2016 and it's been full on. I've done a lot of custom projects for many different orders – events, one-off personal items, team items, and many more (you can check them out HERE).
The journey of it all began with Mountain Bike Radio. It began as a crazy idea to bring a fresh sound and idea to the world of outdoor podcasts – a source for a variety of talk about your favorite type of cycling. Through the help and support of many people, including the listeners, along the way, I'm proud of what Mountain Bike Radio has become. Thank you!
My beautiful wife, Amy, son, Clae, and daughter, Paige, are very supportive and hear about bikes way more than any normal family. I am originally from Wisconsin and recently lived near Denver, Colorado, before moving to North Dakota. My home trail was the Maah Daah Hey Trail near Watford City, North Dakota. We've now moved back and now live in Hayward, Wisconsin.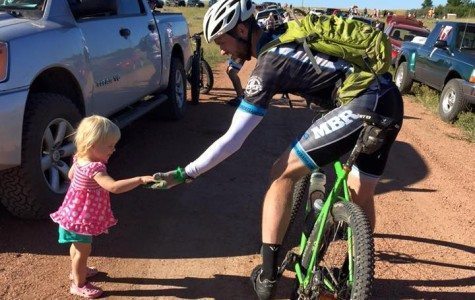 I started mountain biking in 2006 after five years of running various distances and racing triathlons of various distances. I'm a competitive guy and turned to racing as soon as I started mountain biking. Since then, I have a lot of experience racing all distances, including 24 hour solos, 12 hour solos, 100 miles, 50 milers, XC distance, fatbikes, gravel, and everything in between.
I hope that my passion for the outdoors comes across and I'm able to share as much as I can with all of you. I appreciate constructive criticism and am thrilled with all of the support and feedback I've received so far in growing my projects and businesses.